Fiction
The Passing
This short-short story from a tabby cat's view of his owner's passing won first place in the Virginia Writers Club Summer Shorts Contest in 2014. To read it online in the VWC Virtual Anthology, click
here.
If You Marry Me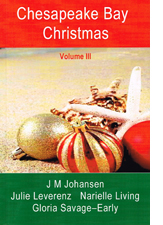 Once a month, when 24-year-old Aster Bloom delivers a floral bouquet to the retirement home, she wonders about the recipient and the mystery sender who signs every card, "With all my love, T." Aster imagines a lonely, feeble old lady beaming wistfully because of a dutiful relative, a former neighbor, or maybe an admirer. To Aster's shock, Liliana Rachman turns out to be a strong-minded, independent nonagenarian who sweeps Aster into an unlikely friendship that transforms both of their lives. Along the way, Aster must cope with her best friend's hilarious (and heartbreaking) attempts at matchmaking, and figure out how to fend off her sleazy, blackmailing ex-husband.
This novella appears in Volume III of A Chesapeake Bay Christmas, along with a selection of my photographs. You can purchase this anthology from all major booksellers and e-book sellers here.
Finding Amy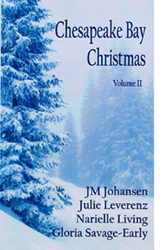 Just one last final exam and Brandi, a popular cheerleader at Old Dominion University, is looking forward to Christmas vacation and spending time with her boyfriend. Confident she will do well, she catches a few hours of hard-earned sleep, only to be awakened by a distraught call that forces her to put everything on hold. Against the backdrop of an isolated cabin in the wintry landscape of Virginia's Northern Neck, Brandi learns a shattering secret that opens her eyes--and her heart.
Appearing in Volume II of A Chesapeake Bay Christmas, this is my debut story as one of the "Bay Sisters," as we are collectively known. You can purchase this anthology from all major booksellers and e-book sellers here.
Love Thy Neighbor
When grandmotherly Cindy Hanscome reaches out to Amanda Carpenter, a troubled young woman who lives on her street, she embarks on a journey that is both fulfilling and frustrating. With the help of her supportive husband, Cindy learns about her own limits and the power of love.
Published in September 2013, Harboring Secrets is a select compilation of fiction, nonfiction and poetry by members of the Chesapeake Bay Writers group.
I also have a poem in this anthology. You can purchase it from all major booksellers and e-book sellers here.
Hotshot Hannah
"After paring her belongings to a notch above meager, she shipped some boxes to a motel in Laramie and piled the rest in the back of her secondhand Camaro. On September 4, 1978, she blew a kiss to her bewildered parents and turned the key in the ignition as if it were the detonator to blow up her past."
So ends the introduction to "Hotshot Hannah," a short story based on my friend Karen Holman's letters about moving to Wyoming in search of the space and independence she craved. The story won second place in the 2010 York County Library Literary Contest.