Lifetime Warranty: A Memoir
I like to think that I told my sister. If I did, it would only have been the quirky part of the story; the rest didn't click until this last January when I was sitting at my dressing table, going through the usual bedtime routine. My mind wandered. Christmas had been put away for another year. My niece was expecting her second child. A friend ached on the birthday of his brother, killed in the twin towers almost ten years ago… my sister's birthday was in January, too. She'd been killed by cancer a month after 9-11. After a while my thoughts gathered into a circle, like kids playing musical chairs. But this night, in this game, when the music stopped there were enough chairs to go around. Everything fit. I looked down at my hands and understood.
Memory took me back to December 1963 in Princeton, New Jersey—the year I drew Ditty's name for the family's secret Christmas stockings. I had just turned sixteen; younger sister Ellen and I were still at Princeton High and David, the oldest, was in his last year at Harvard. Ditty was almost twenty and home from Pembroke College, her first semester back after she dropped out of Smith a year earlier. Not for academic problems, oh no, she was a smart girl, but because she stressed herself out working too hard and frazzled a brain circuit or something.
Whatever troubles Ditty had didn't affect me—my only concern when she first came home from Smith was that I'd have to give up the prize downstairs bedroom, reserved for the oldest child living at home. I was vaguely aware that she got a job at the Princeton University alumni office and Mom set her up to talk to some counselors and stuff. After Mom said I could keep my room I was content, confirmed as the reigning star in my personal universe and oblivious to anyone's troubles other than my own.
But I did pay attention when Ditty went out on dates. I had boys on the brain, embroiled in the angst and delirium known only to fifteen-year old girls, and it seemed to me she was having a lot of fun dating college boys, ushering at McCarter Theater and singing with the Savoyards. Even better, sometimes her boyfriends had friends and, if Mom agreed, I got to go to parties too. I didn't mind the fallout from her boyfriends, not at all.
When I got Ditty's name for the Christmas stockings at the end of that year, I puzzled over what to do. Then I remembered the boyfriends and decided to do a sort of one-year "This Is Your Life" with little souvenir trinkets. I spent a lot of time thinking about and hunting for just the right things: a tiny motorcycle to represent tall, sunny Tom, who was anything but a Hells Angels type; a pack of Doublemint Gum to remind her of the twins she dated; a Jack of Hearts for Bud, who sang with her in the chorus of the Savoyards' "Yeomen of the Guard." I bought a bag of Hershey's Kisses to fill the gaps. After wrapping each item separately, carefully camouflaging it, I penned a cryptic hint on a foldover tag cut from the wrapping paper. Late on Christmas Eve, I put an old silver dollar (courtesy of Daddy) in the toe of her stocking, then an orange, then the gifts and chocolate. When I was done I poked a candy cane out the top. That's how we always did stockings in our family.
On Christmas morning I couldn't wait to see Ditty's reaction as she opened all her little presents. Surely she would laugh with delight as she read the hints, tried to guess, and made the connections. Maybe she would exclaim over my brilliant creativity and all the trouble I had obviously taken. I also couldn't wait to delve into my own stocking, which sported very intriguing bulges under the obligatory candy cane.
Reaching for my stocking, I looked sideways at Ditty and grinned. In her bright red bathrobe and big fuzzy slippers she looked festive enough, but her face seemed pale and her eyes drooped at the corners. "I'm sorry," she said.
"For what?" I said, unhooking my stocking. It was surprisingly light. The lumps squished under my fingers.
"I didn't have time. I just got some stuff at the last minute. It's not much."
I peered into my stocking and pulled out a foam hair curler. It was pink. Then another one. And another one. I never used foam curlers; since day one I set my hair with brush curlers. I hated pink. Every single lump in that stocking was a pink foam hair curler. Well almost every: she'd also thrown in a Chapstick and a small nail file—one of those Revlon lifetime diamond things in a plastic sleeve—the kind that says "Shaping" on one side and "Finishing" on the other.
In an instant, my eager anticipation curled into a tight knot. I don't remember what I said, whether I had the grace to even try and pretend I wasn't crushed. I barely noticed that Ditty reacted to her stocking just as I hoped she would. But each of her exclamations was tinged with embarrassment, which only made me feel worse.
After opening our stockings, the family gathered in the dining room for a big breakfast of scrambled eggs and bacon before going to the eleven o'clock service at Trinity Episcopal. Evidently the service revived my normally cheerful disposition: in my diary that day I wrote simply, "I went to church feeling disappointed and irritated because of the stocking, but I prayed for me and when I got home I felt TONS better." There was no hint of the staying power of the memory created by that pink foam; at the time it was only a minor blip in the daily drama of my teenage life.
Over the years, as my attention expanded beyond its selfish confines, I pieced together the story behind Ditty's short stay at Smith. Mom said Ditty "burned the candle at both ends," trying to excel. Depression sneaked up on her between the never-ending reading, reports and tests, and finally tipped her into self-destructive despair. Kindly administrators sent her home, which Ditty saw as the ultimate failure from which she could never recover, so why should she bother to live at all.
While Mom and Dad grappled with the uncertainty of what was best for Ditty—and wondered if they were at fault—they made a conscious effort to minimize the impact of her breakdown on the rest of us. To outsiders, they downplayed the seriousness of their oldest daughter's problems to avoid any negative reflection on the family. Apparently I wasn't the only oblivious one.
Happily, after a few rocky years Ditty not only lived, she graduated from Pembroke and went on to craft a better-than-good life for herself. She reinvented herself with her given name, Edith, got a master's degree and married a fine man with whom she had two kids. They moved to Kansas where she founded a respected geriatric research center, ran successfully for City Council and eventually became Mayor. Even though I stayed on the East Coast, over the years she and I talked more, shared more and schemed more. Ensuing Christmases—like the year she enveloped newly-divorced me in her loving family's holiday—and major events like naming her daughter after me, relegated the pink foam curlers to nothing more than a mildly poignant memory.
The stockings came up again many years later, perhaps during one of my visits when Edith was ill. I remember she told me how she had struggled that first semester at Pembroke, feeling herself slipping back into the patterns that had derailed her at Smith. Two days before Christmas she came home drained and fearful, wanting only to sleep. With no time and little energy, she rushed to Woolworth's and picked up the first thing she found that would fill up the stocking fast. She thought the curlers would be a good joke.
"I still feel awful about that," she said.
"I was pretty upset," I said, "but I have to confess I had a lot of fun dreaming up and hunting for all those little gizmos I put in your stocking. I had a terrible time finding that little bitty motorcycle—"
"—I still have that miniature motorcycle!" she said. "That was for, what's his name—"
"Tom?"
"Wow, yes," she said. "I can't believe you remember." She shook her head, then laughed. "Anyway, it's in the bottom of my jewelry box. Reminds me of the good times in those bad years. Every time I see it, it makes me smile."
I felt a surge of happiness, as if I were seeing her unwrap it for the first time on that long-ago Christmas morning. And I hope I told her, then, that I still had the nail file, that it was the best ever, and it was so well used that I could barely read the words on each side of the smooth white handle.
I like to think that I told her. And I wish I could tell her what clicked last January, when the Christmas of 1963 reemerged as if pressed in my mind like a flower in a diary, each vein clearly outlined. Except unlike a faded flower, those colors are still vivid, the pink curlers and their white fasteners as bright as cotton candy on a white paper cone. What I didn't tell her—what I only understood as I looked down at the nail file in my hand that night—was that, nestled in all that pink foam, she buried a small treasure with a lifetime warranty: a diamond-sparkled tool that I use every week of my life for shaping and finishing. And it makes me smile.
--March 2011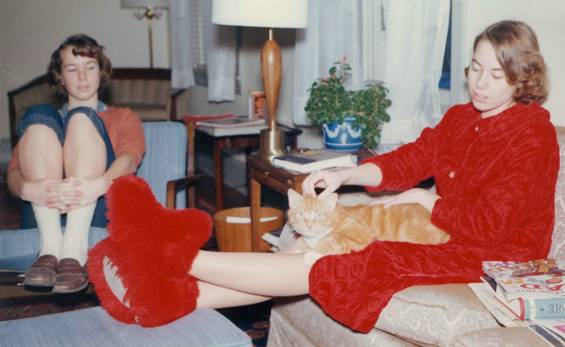 Julie and Ditty with "Floppy Paws," 1963